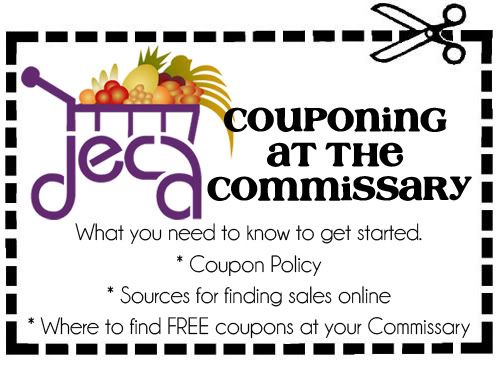 Couponing is a great way to stretch an already tight budget. While shopping at stores like Albertsons, Safeway and other large grocery store chains have their perks like "doublers" their prices tend to be on the spendy side during non sale dates. This is why DeCa's motto is "Save an average of 30% or more!" Items are marked at cost + 5% surcharge to cover the cost of building, maintaining and upgrading Commissaries nationwide. They understand the tight budget military families are on, and they strive to bring you the best value for your dollar. "DeCA encourages commissary patrons to use coupons because savings realized through coupon use can add significantly to the savings that our patrons already generate just by shopping in commissaries."
DeCa
(
Defense Commissary Agency)
wants to make couponing at the Commissary beneficial to you and an enjoyable experience. I highly recommend printing out the entire DeCa coupon policy and reading it over. I did this, then put a sticky note on the front telling me what page has specific information I might need during a check out. Such as overage, using competitor coupons and using Wags rewards. One important thing to remember shopping at the Commissary is you can only use 1 coupon per item. So if you have a military store coupon and a manufactures coupon, you can only use 1. This is really the only difference to shopping at the Commissary; everything else is pretty much the same.
Did you know the Commissary allows overage!?
In Chapter 4, Section 7-4 it states:
n. Valid coupons will be entered at the value stated on the coupon. If the value of the coupon exceeds the cost of the product, the customer will be given the full value of the coupon. (DeCAD 40-6
June 5, 2007, Change 1, April 2, 2009, pg. 48, Ch. 7 Section 7-4)
Did you know the Commissary will take Walgreens register rewards if the wording is correct!?
A Commissary shopper asked: "Do commissaries participate in Walgreens Register Rewards or accept manufacturer coupons bearing another store's logo?"
"DeCA does not participate in Walgreens Register Rewards per se; however, we do accept the manufacturer coupons that print out on the registers at Walgreens and other retailers, provided the verbiage does not limit redemption only to the retailer advertised on the coupon. For example, if the manufacturer coupon states "Redeemable at" or "Redeem at," we can accept it; if it states "Redeemable ONLY at" or "Redeem ONLY at," we cannot. While these coupons may reference Walgreens Register Rewards or have a Walgreens or another retailer's logo printed on them, we are accepting these as a manufacturer's coupon"
I highly recommend going and printing this page off and keep it with your Commissary coupon policy. You can find this information on the DeCa facebook page.
Under the "Notes tab" there are pages of questions asked by Commissary users and all answered by authorized personnel so you can rest assured what you read there is true and accurate.
A down side to trying to plan out a shopping trip to the Commissary and doing match ups is they don't have a regular sales flyer. But they do have many resources online; you just have to know where to look!
Here is a list of sites that I check regularly to find sales.
~ Go to the "What's on Sale" tab at:
You will be prompted to put in your DOB and SSN to access the entire list of items on sale.
*Note it is against Commissary policy to copy/paste this list with prices to the internet.
~ Flyers showing what's on sale at your Commissary:


The Commissary provides some great free publications that have lots of coupons in them such as the Maxi Saver and Coupon Connection. They are located at the front of the store, usually by the entrance/exit. They are mostly military only coupons that can only be used at military installations, but occasionally there are some general manufactures coupons too!
I hope this has given you valuable resources and knowledge to use your coupons at the Commissary and save even more!